"Embrace the War Device"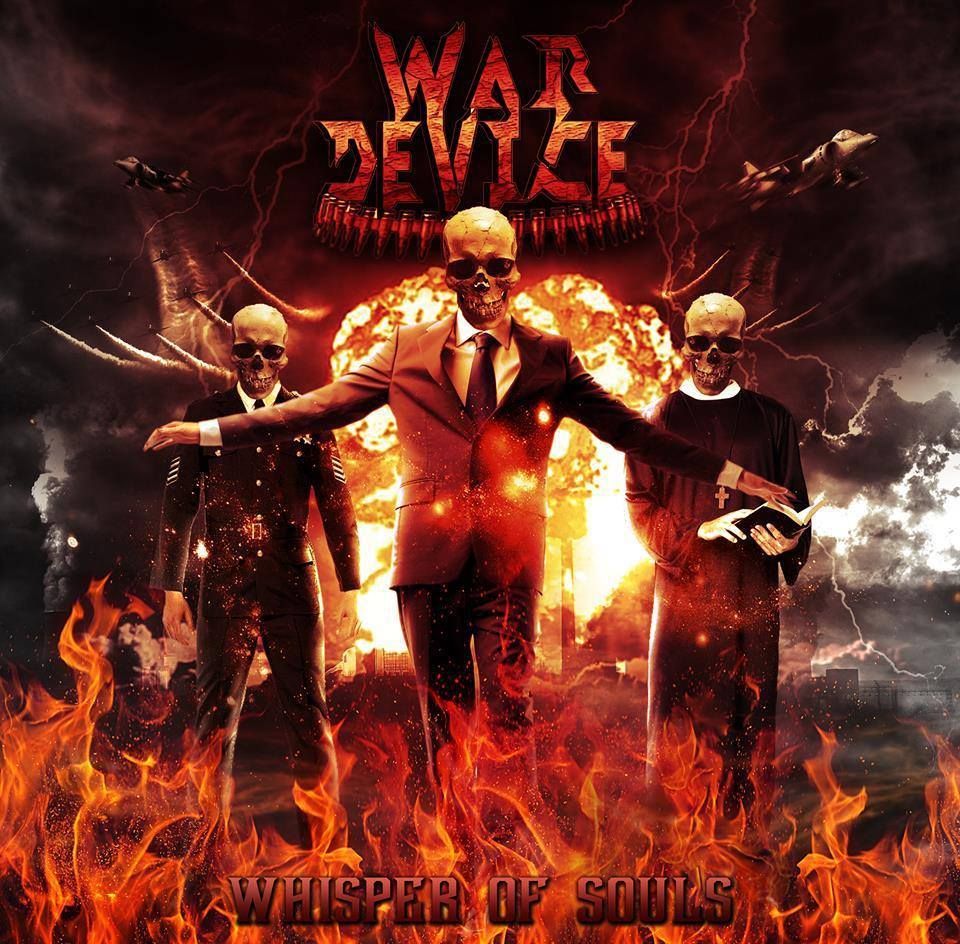 War Device do not fuck around. In January '13 they released their EP,
The Anger
and in December they released their debut album,
Whisper of Souls
. A busy year for the Greek thrashers, and I've been looking forward to this album, so let's have a look, shall we?
The album starts with the fashion that's spreading more and more; an instrumental intro. It's not that different from your average intro track, it is mid paced and slowly building up until the next tracks starts. And it leads into the title track of the album which is really enjoyable. One thing I have to get off my chest is that War Device is no "thrash revival" band. With this album they cement that they got their own style unlike many other new thrash metal bands. I really liked their EP and its production, and the production is even better now, and that is a major plus. A lot of times I've experienced that bands go from releasing an EP to a full length and then screw up the production because it has to be as clean as possible. But not this time! The sound hits a lot harder than on the EP, and the bass really came out as the winner here unlike on
The Anger
. The drums also sound good, especially the pedals, but I'm not too crazy about the snare which could have been better but it's not awful either.
Greece. I must say I don't know too much about their bands. I also brought up this subject in my review of their EP, and that Suicidal Angels is the only Greek band you really hear about. Or at least the only I really hear about. But my point is... War Device is better that Suicidal Angels. I don't get bored halfway through
Whisper of Souls
, neither do I get the feeling that I just heard the same song 5 minutes ago with the exact same structure. Anyway, as I mentioned, War Device really cemented their style with this release and building upon what the made with
The Anger
. They certainly did not disappoint me with this album, but it didn't meet my high expectations either. The album cover is once again photoshopped, but it looks pretty good in spite of that. I would like to have seen Andrei Bouzikov's version of it...
The album's strongest pillar is the production. I had high expectations (maybe too high) for this album as their EP,
The Anger
, was a blast from start till end. So the consistency the EP had faded a bit on
Whisper of Souls.
Of course a full-length holds more tracks, so the chance of fillers is a bit higher. In spite of that the albums still comes out as a strong debut with great content and a re-recording from
The Anger
. The tracks that I think stands out is
Whisper of Souls, Shattering My Thoughts, M.I.P. (Mind in Panic)
, and
Rehab Beyond Perfection
. And if you like any of those songs, or some of the other tracks from the album then you gotta get their EP as well. It's just badass, and it features a killer Kreator cover! To sum up this album, it's quite good but I got a feeling that it maybe was a bit rushed. 2013 seemed to have been a busy year for War Device with both their EP and debut album. But with those two releases they truly have got a solid foundation for their future, and I'm looking forward to their next material.
Rating
8