"Be Careful Not to Overdose"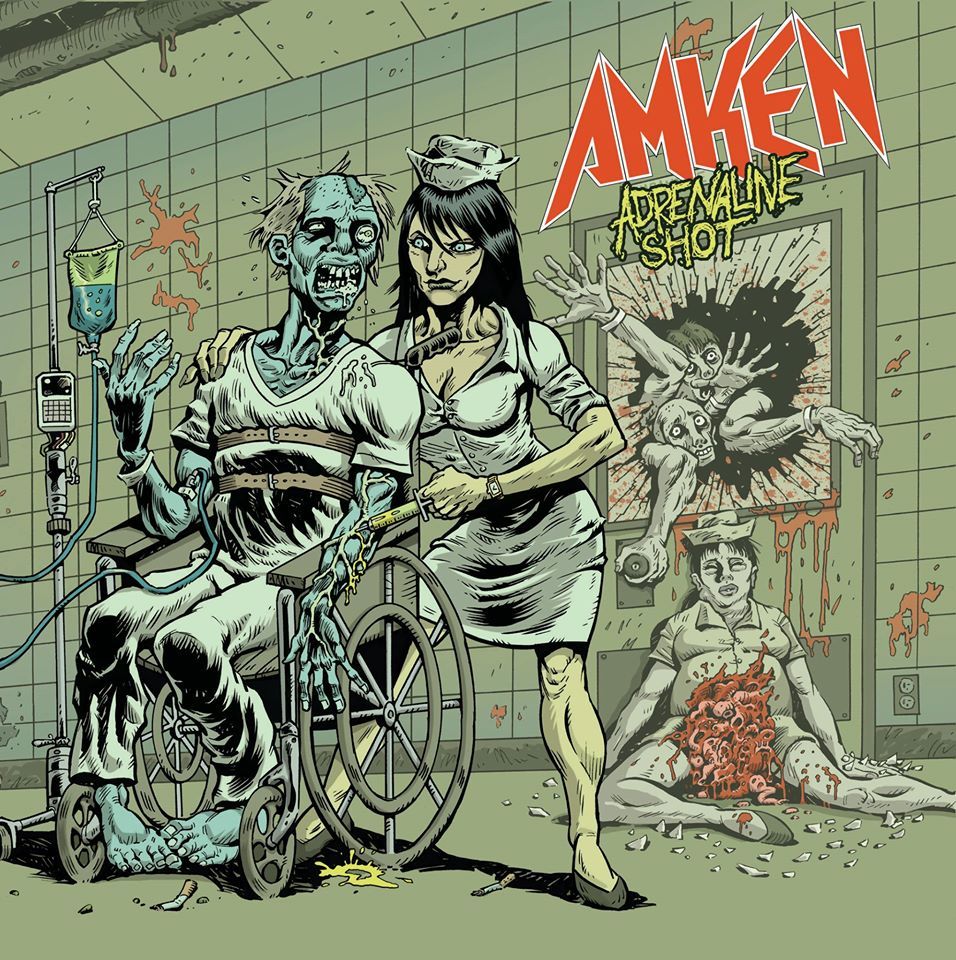 Amken is a debuting thrash metal band from Greece who's been around since 2011. These fellas have received some good press talk especially in their home country where the Greek Metal Hammer magazine named them band of the week earlier in 2014. Not only that but they also secured a spot opening for Six Feet Under, which is quite impressive.
Adrenaline Shot
with its awesome looking artwork is their first release, so here's a little insight on just that.
True to the EP's title, you'll get an adrenaline shot and it starts with skank beats, as soon as you play the first track which is also the title track. But I'm not going to plunge into each track as there's only four of them. I am however going to break it down a bit, quite specifically into two parts. But before that, a quick little look on the production. It is crisp. It is clear. Everything is audible and sounds really good, to me it doesn't sound like there's a guitarist or a drummer in the band in charge. It sounds professional and not in a overly polished shitty way but in an impressive way for a debut release. The general way this EP is showcased and done is quite nice and it doesn't feel like it's just a 2nd rate thrash metal band, but someone who wants to be taken seriously.
In spite of these things, Amken struggle to set themselves apart from other thrash bands coming out, but in some way they manage to do it anyway to a certain point. The first half of the EP, meaning the title track
Adrenaline Shot
and
Zombie Pets
are your typical no-brain thrash metal songs. There's not much to them besides the great production and pure fun, and to be honest I need more than that to be entertained by thrash metal these days. Otherwise I see no point in returning to a certain record and listen to it again. It's hard to put words on the vocals, but they're not revolutionary. They feel like a mix of harsh and squealy-like vocals and they are pretty decent but still average. And since the EP is only 19 minutes long it doesn't give you the chance to get enough of them. The real interesting thing however, is the last half of the EP, which is the tracks
Nightmares
and
God's Asleep
. On these songs Amken take an important step in my eyes and creates two more grown up thrash songs.
Nightmares
features my favourite riff off the record and the song itself just got a gloomy feel to it mixed with thrash metal of course. That goes for
God's Asleep
as well, and that is where Amken really shines and manages to vary the tracks and keep them more interesting. I would love to see the band continue down that road and experiment some more with those ideas.
So what remains after these four tracks? A fairly entertaining debut release from a Greek thrash band which I hope will turn into something more than just a band who plays no-brain thrash metal.
Adrenaline Shot
is not going to convince that friend of yours who's sceptical about thrash metal that it's the real thing ever, but you who do enjoy thrash should pick this up for its potential.
Support the quartet on
Facebook
, check out their
Zombie Pets video
and get a hold of their EP at
BigCartel
.
Rating
7.5