"Do You Practice What You Preach?"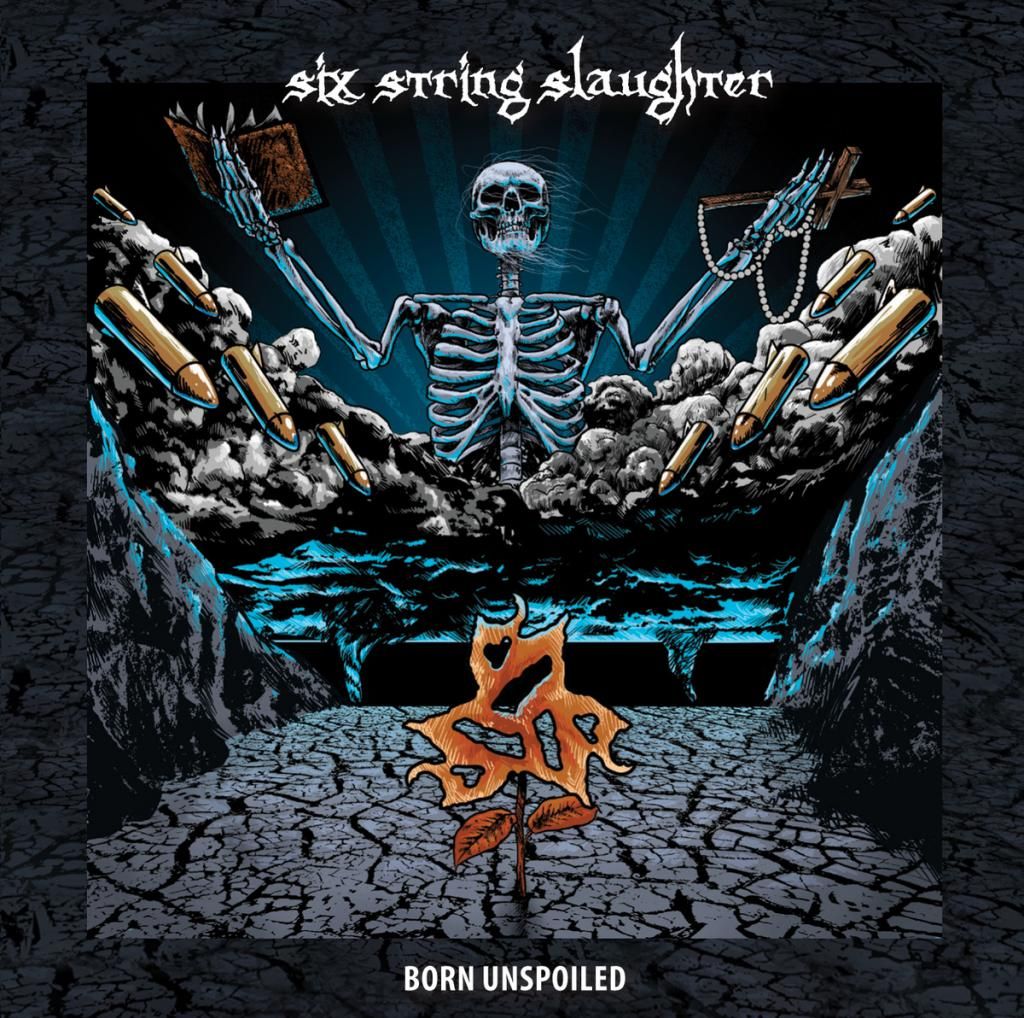 I would like to introduce you to Six String Slaughter. This three-piece death metal band features two members of former Corpus Mortale fame, and they recently released their debuting album. Before this they released two EP's and have been around since 2007, so it's certain to say it took some time to get this one out. So let's have a look at
Born Unspoiled
.
The first thing I would like to get out of the way is actually the lyrics, and it's itching! Not because they're bad, oh no... So here's the scope. The lyrics are actually pretty simplistic, they're straight on and right there in your face. It fits really well with the general topics of religion, society and politics. Nothing new under the sun? No, not really, but the jabs taken at the topics feels fresh, they're well placed in the guts. Allow me to demonstrate.
Virulent Narcissism
targets the social media of the internet, and its horrible narcissism.
Holy Lies
strikes at Islam, which is something I've been longing for. The title track together with the artwork makes you think how children are born unspoiled until religion ruins it. It's almost like you can feel the anger behind the lyrics. I could go on about the rest of the songs, but we got some more ground to cover, and I don't want to spoil everything for you!
Now to the rest. You'll be treated with a good and powerful growl with the vocals from Daniel Wilkens, and they are from time to time also varied with some more raspy-styled vocals, but the growling is the main weapon. The music is of course death metal, but the album has various variations and influences throughout the 35 minutes of mayhem. First off, you get some melodic elements on
Gathering Dust
and
Nothing But Death in the End
. My favourite track on the album,
Everywhere (There Are Prophets)
brings you a simple slab of death and groove with lyrics that fits fucking perfect.This variation helps making the album more intriguing and less dull, so you're not stuck with the same thing throughout the entire listen. At last you'll also be treated with an old classic in the likes of a cover of Brutal Truth's
Birth of Ignorance
which sums up the album. While not mindblowing, the production fits the album quite well and overall it sounds good. You're not missing out on any instruments, though I must admit I like my bass a little more audible, but fear not, it still packs a kick! And even though it's a petite thing, I really like the sound of the snare but besides that the drums does not stand out that much.
Born Unspoiled
is a really interesting debut and it has been worth waiting for. The album strikes with some relative points in its lyrics compared to some other bands who still haven't got anything else to write about than corrupt governments... sigh. The simple lyrics and interesting themes is the biggest strength of this album, and it's delivered with more than competent music.
Everywhere (There Are Prophets)
is probably my favourite death metal track of 2014. This album definitely puts Six String Slaughter on the map of death metal, maybe not as a world class act but in their home region of Scandinavia and surrounding areas without a doubt!
Support Six String Slaughter on
Facebook
, and you can get a hold of Born Unspoiled through their label's
Bandcamp
!
Rating
8.0