"Wheels of Repetition"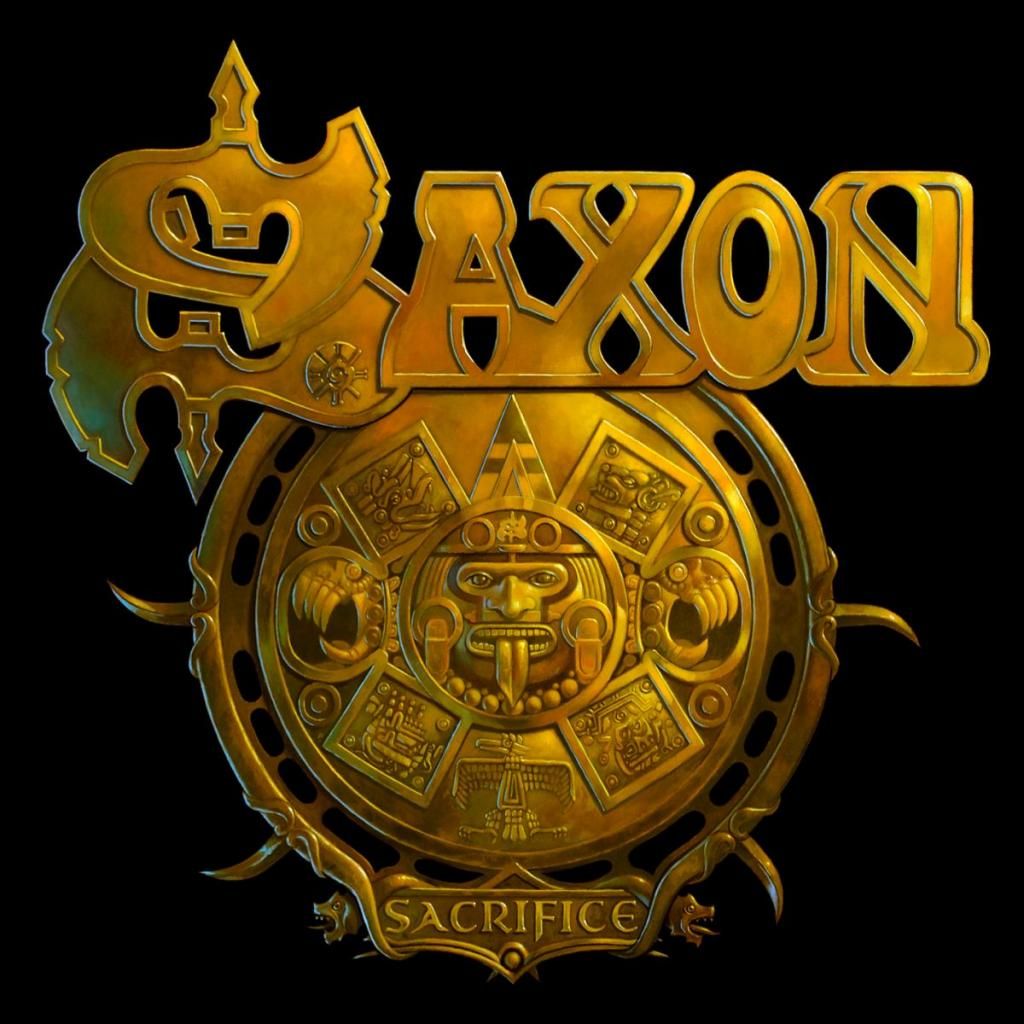 I guess it is not really a surprise that Saxon already got a new album thrown out into the streets, as they more or less have been keeping this 2 year span between each album for quite some time. Is that a good thing that we keep having all this brand new material or is it a bad thing...?
The album contains the usual ingredients that you would find on a Saxon album. Good production, solid band performance and the usual topics you would expect from Saxon.
Biff's voice is still going strong and I do not doubt he will be able to perform on a high level for a couple of years in the future, though he has reached into his sixties. Through the first two or three listens the album doesn't really offer much but then it grows on you a bit, and that is pretty much how it goes with a lot of Saxon albums post their "glory days". I was however from the looks of the cover hoping that the Aztec theme would shine through and bring some diversity into their discography. Since that is not the case you can always hope for some new smashers, which there of course is. But besides that, it is actually not that different from previous albums. Some fillers and decent songs and then some tracks you can add to your Saxon play list. Other than that, there is really not that much to blow up about this album, as it has been done countless times before by the band.
"Sacrifice" also offers us five re-recorded songs. 'Just Let Me Rock', 'Forever Free', 'Crusader', 'Frozen Rainbow' and 'Requiem (We Will Remember)'.
The orchestral version of 'Crusader' is decent. Sometimes the orchestra is a little misplaced and doesn't quite fit the rest of the music. But it isn't really as orchestral oriented as it could be, but without hesitation I would always listen to the original, though the normal re-recording from "Heavy Metal Thunder" is an okay fresh take. Adding these re-recordings definitely was a wise choice, at least for my taste. I love some good re-recordings, of course the band already released "Heavy Metal Thunder" in 2002 which only featured such tracks. The two standards 'Just Let Me Rock' and 'Forever Free' are funny enough fresh takes as well. Though 'Just Let Me Rock' never really got through to me and is rather forgettable, and that goes for the original and new version. 'Forever Free' however is a really solid take on an already good song and is easily a re-recording I would play some more in the future!
Normally I don't really want to listen to acoustic versions of tracks, I can't really come with any explanation. I just can't see the use in some way... But the first version 'Requiem (We Will Remember)' which have been cut down in length which suits the song a lot, is actually pretty good. As the song already was a kind of a ballad but maybe a little to long in duration, this acoustic version serves the track a lot of justice and it definitely something I will listen to again! Now, 'Frozen Rainbow' is one of my favourite songs by the songs so I really feared for this song's awesomeness in acoustic "mode". But... They actually didn't ruin it. As the previous song, it has been cut down in length, not that much though. It is nice and calm, and originally it also had a ballad feel to it. I really applaud Saxon on those acoustic songs. It really shows the skills of the band that they can "transform" some old tracks like that and not making them doll. It's like they have gotten and overdose of breath mints. Totally fucking fresh. Now I got two versions of one of my favourite Saxon songs. Perfect! Normally I don't do track by track reviews but to me it just seemed like something good to do, for old and even new fans so you know about the quality of these new recordings. If you of course care about re-recordings, and if not... Oh well!
Oh the cover... Well it is a typical Saxon cover with the logo taking up a big space of the cover and then some sort of badge or illustration. But unlike "Into the Labyrinth" it just got a boring black background and it kind of kills it... The man behind the cover is Paul Raymond Gregory who has worked with the band before and created covers like "Unleash the Beast" and "Rock the Nations", so he is capable of more, just a shame the band chose this as the final cover. From the core of the track list with means the ten new tracks I would highlight 'Sacrifice', 'Made in Belfast' and 'Guardians of the Tomb'. It is not much but they are the only tracks that really stand out, but if you want to make the three track span a little bigger then add the re-recordings of 'Requiem (We Will Remember)', 'Frozen Rainbow' and 'Forever Free'.
Instead of dishing up with these albums within a 2 year span I think they should take some more time off to write better material. A real fucking smasher, which the band really need, to get some more success which they deserve. Personally I prefer Saxon over Iron Maiden (oh yea I said it), but that is just me. Saxon got so many hidden gems, you just got to find them. But I really think they deserve a real breakthrough, it almost makes me sad that they are so under appreciated. So when reflecting "Sacrifice" doesn't really add anything new to the table that the band haven't already released. However it was a nice surprise with the acoustic versions of some old songs, maybe they should incorporate acoustic songs more on their albums, because they really got a nose for it! It is not a bad album but not a great one either, just a decent performance, though some of the re-recordings really pulled this album up in rating.
Rating
7.9