We would like to continue down the road and exploit some more underground treasures for you. Underground Discoveries is the thing enjoy doing the most as we find a bunch of new bands, and you guys can just pick the fruit of our explorations! So... once again we present you with 6 bands, the first 3 by Jacob and the remaining 3 by Alexander. Enjoy!
Chemical Cascades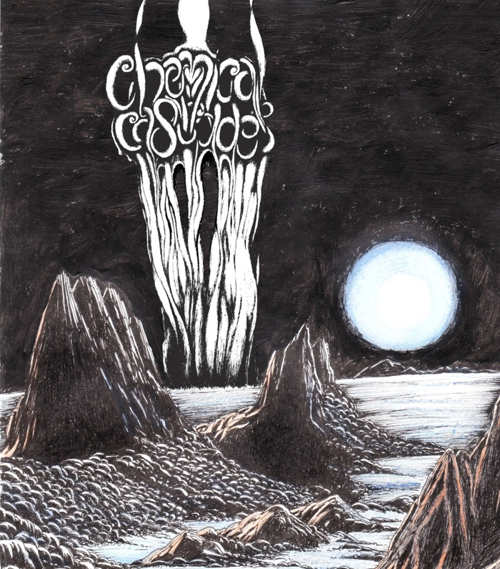 Chemical Cascades hails from the outback country itself, Australia. Playing a very melodic style of black metal mixed with a hell load of psychedelic elements. The vocals are just haunting by nature and sounds like the guy doing them is in a, should we say, chemical agony? If you are into both the style of cascadian black metal with bands like Skagos and the psychedelic ones such as Oranssi Pazuzu, then Chemical Cascades is highly recommended!
Wormridden
Death and doom metal have always been two of my favourite genres and when put together, they just get even better, and thats why I am going to bring you the monster made by David Torturdød from the danish band Undergang and Takashi Tanaka from the japanese Anatomia. This demo is absolutely heavy, so heavy that the blow feels like a sledgehammer coming towards you... slowly.
Gravecrusher
Gravecrusher is an old school death metal band hailing from Hungary. With a sound that both implement elements from the American death metal scene and the Swedish death metal scene. We can only hope that they're currently in the progress of making a full-length!
Embraced by Fall
I would like to invite you to Portugal! Not really a country I would link with metal, but then Embraced by Fall slapped me in the face. Formed in 2013 and playing death/doom metal, they already released their first piece of material in the likes of "Hopeless Paths", a fine little 5-track EP. It is a very promising release, it is hard hitting, ripping, and the production is absolutely marvellous! Keep your eyes peeled on Portugal, keep your eyes on Embraced by Fall!
Nangilima
We're staying in the doomy corner but heading to Sweden and adding some more atmosphere to the music. Nangilima is a brand new band playing doom metal. They categorize themselves as black/doom however the growls kind of reminds me more of death/doom. But that is not important, there is a lot of atmosphere on the bands single "Thanathos" and it blends perfectly with the doom aspects. They are working on a debut album, and "Thanathos" is just warming us up to what can only be an incredible journey!
Panikk
Strip the blerk, derp and deewm, it's time for some fwash metal. Panikk is a thrash metal band from Slovenia and they released their debut album "Unbearable Condition" in 2013. They actually remind me a lot of Angelus Apatrida from Spain, but however the similarities may be shining a lot sometimes then make no mistake. They got some really good songs on their debut with some fresh riffs and overall a really good performance! Good production that doesn't kill the music, and they are definitely someone you should check out and keep your eyes on if you like thrash metal!