"Welcome to the Limit"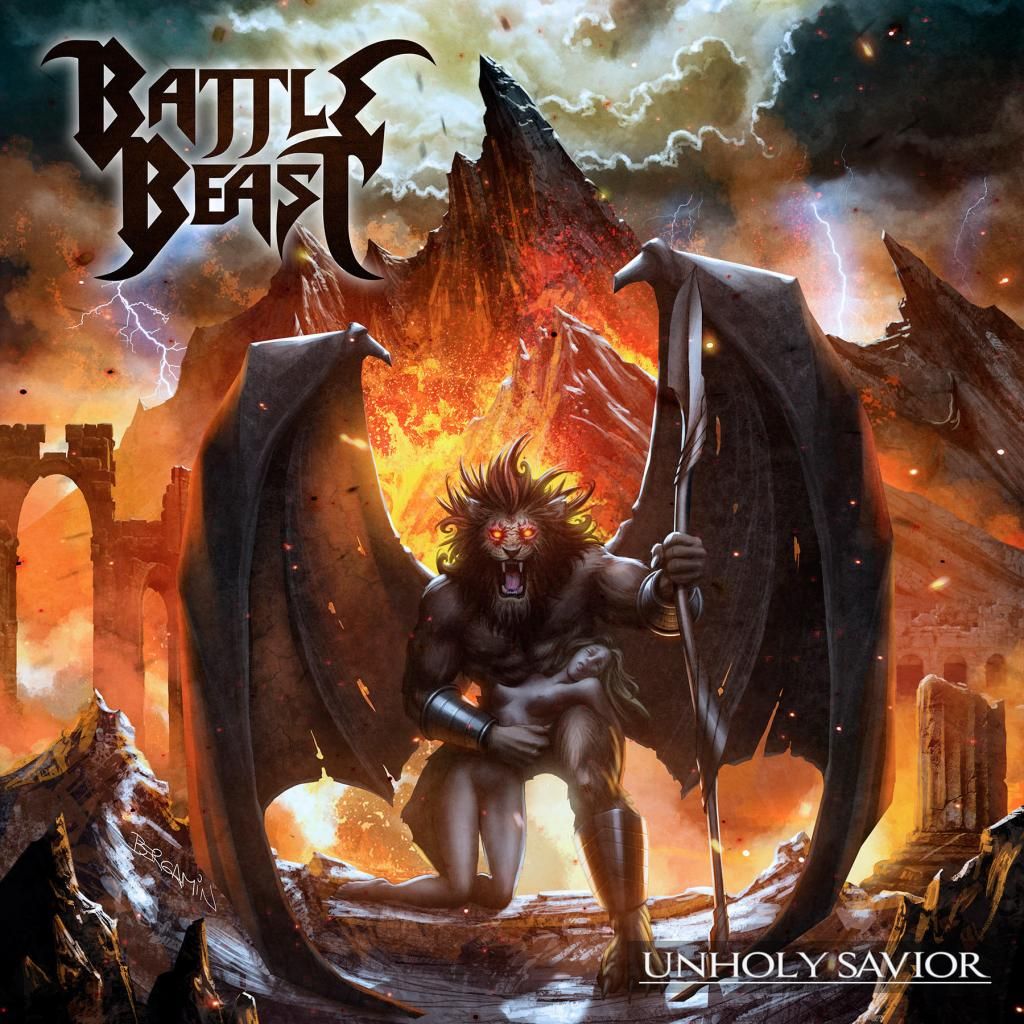 Finnish Battle Beast recently released their third album in the likes of
Unholy Savior
. It's without a really special record and the band is shaping up to be something to keep your eye on. And allow me to explain why...
Let me start like this. Do you love the 80's? And when I say love, I mean LOVE the 80's. If you do then this album is for you. There's more reasons than that, but I'll save that for the end! I am not that well acquainted with Battle Beast, as in I've never heard anything by them before listening to this record. The first track I heard was
Touch in the Night
a couple of weeks before the release of this album. To be honest I thought that Nuclear Blast had uploaded the wrong damn track. I could not believe they had a bad signed that was so fucking 80's. I can however say that, that song is the one that sounds the most like it was actually done back then. Throughout this record I catch myself laughing from time to time. It's not a demeaning laugh, but pure joy. This album makes me so happy and it's just filled with good vibes. I dare you not to smile when suddenly some 80's Roland drum machine toms suddenly break into a heavy metal album. I dare you!
But let's get into the real meat of the album! From the very beginning of Lionheart the album simply just takes off and it just continues. The title track is one of the best on the album and you'll have to struggle to contain yourself from singing along. Suddenly you're greeted with a sample featuring Al Pacino in Scarface in the tribute to the movie,
I want the World... and Everything In It
. The middle section of this album is plain and simple amazing. It's where the variation of the album starts to kick in for good and keep everything fresh. That certain middle section contains three tracks and starts out with
Sea of Dreams
which is a more mellow song and shows that Noora's vocals fits every track they throw her into. That brings us into the fastest song on the album,
Speed and Danger
which isn't necessarily the best track on the album but the variation is spot on as it leads to
Touch in the Night
. That track reigns among some of the best from this album as well. The last couple of minutes of the album features the most guitar-driven metal track on the album
Far Far Away
, and then it ends with one more laid back song. Unless you got the digipak version... Battle Beast took the freedom to cover an 80's anthem in the likes of Paul Engemann's
Push it to the Limit
(from the Scarface soundtrack). I'm always skeptical about covering of anthems but they actually nailed it. Fucking nailed it.
I took the liberty to listen to a couple of tracks from the band's self-titled release to compare the production a bit. The electronic elements has been dialed down on this album and that's very good in my opinion. The keyboards are still busy though and they sound great throughout the entire record, but they sound way better this time around. Production-wise this whole record has a really big sound with a majestic touch. There's a lot going on the tracks, a lot of instruments and nothing gets lost but goes hand in hand and sounds terrific. Overall on every front, I think it's a step forward from their last album. And the vocals of Noora are fucking great. She's definitely one of the best female vocalists I've heard as she has a wide range and can fit her vocals into all the songs whether it's rough and edgy or she has to hits some higher screams.
I'm not into power metal at all. However Battle Beast is really, really accessible. I've been truly amazed by this album. It's modern production and numerous 80's sounds together with the variation and overall songwriting, together with the great vocals from Noora that doesn't come off as girly, but powerful is just a winner all the way. I hope this album will bring Battle Beast forward in the game as I think they are worth much more than a band such as Sabaton. 2015 just got one of the best starts possible with
Unholy Savior
.
Rating
8.5